Good Morning!
Today I have 2 new products in the store over @ TDC. I have a kit called Doctor Doctor & a new set of frame clusters, that are stacked!
First, Doctor Doctor, came about a few weeks ago. When my mother was diagnosed with liver cancer 7 months ago I wasn't going to scrap about the disease or her illness but every time I have gone home to visit her it is apparent, it is real & in our face. She always comes down with something when I am there. This summer she was not handling the chemo well & was having some issues with it that had her in the hospital the first night I was there. The last time I was home for Thanksgiving she ended up with a kidney infection & was in the hospital over night my last night there. She didn 't want to go to the hospital either time & I forced her to go both times. Good thing I did cause both could have been very devastating to her health if left untreated to long. Its gods way I tell her. So because of this I was looking for a kit that I could use to scrap about moms illness but without it being so childish. Do you think I could find one? No. All the papers in the kits are not fitted for what I wanted to use it for, so I gave up & made one myself. The kit is good for both adults & children oriented ailments.
Doctor Doctor
( you can also buy either just the
papers
or
elements
if you prefer one over the other)
My layout I created with this kit
By Jacinda
By Juli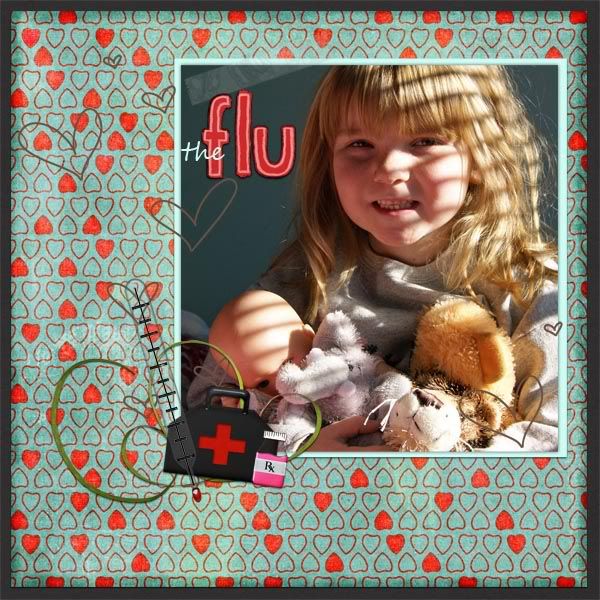 After I came out with my other set of frames, I got alot of request for more frames- frames that were stacked, was one of the requested particular kind so here is what I came up with.
I hope it is not disapointing to the ones requesting them. ;) If you have any particular fancy just give me a holler, I am working on more as we speak.
Stacked Clustered Frames
By Tracey
By Marianne
By Holly
So, there you have it. Some gorgeous layouts eh? The digichick ct are amazing.

Thanks for stopping by.
Have a great weekend

xox
J